The Washington Capitals have yet to win the Stanley Cup since joining the NHL in 1974. However, this might all change when they visit the Vegas Golden Knights in Game 5 of the Cup Final. Furthermore, the game is set to start at 8 PM ET and can be seen on NBC. The Capitals take a 3-1 lead into T-Mobile Arena after beating Vegas 6-2 Monday night as –120 home favorites. Tonight, the Capitals are One Win from the Cup and are a clear favorite with the bookies.
The Golden Knights have come a long way after starting the year as +20,000 outsiders on the Stanley Cup futures. In addition, the Golden Knights were –130 favorites to beat Washington in this series. Initially, they appeared well on their way after taking Game 1but the Caps have been the better team ever since.
Braden Holtby has allowed just five goals during this three-game winning streak, after getting shelled 6-4 in the opener.
Marc-Andre Fleury hasn't necessarily fallen apart for Vegas, who gave up three power play goals in Monday's loss. However, Fleury isn't playing at nearly the same high level he was earlier in the postseason. He was the –135 favorite to win the Conn Smythe Trophy before Game 1, but has seen his playoff save percentage plummet from .947 during the first three rounds to .845 against the Capitals.
NHL Odds: Capitals Put Vegas on the Brink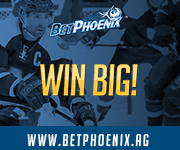 Sports Betting Software companies knew someone was going to win the Stanley Cup for the first time. Will that someone be the Washington Capitals? They'll take a 3-1 series lead into Thursday's Game 5 of the 2018 Stanley Cup Final versus the Vegas Golden Knights; NBC's broadcast from T-Mobile Arena begins at 8 PM ET.
Bet on hockey with BetPhoenix.ag and get a free 175% bonus.
The Capitals put Vegas on the brink of elimination Monday night with a convincing 6-2 victory in Game 4, cashing in as –120 home favorites. Marc-Andre Fleury has a .845 save percentage over these past four games after opening the Final as the –135 Conn Smythe favorite.