College Football
HH Presents the 2014-15 College Football Playoff Shootout Presented by Bet Phoenix!!!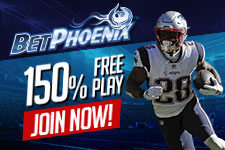 Our Great Sponsor Bet Phoenix has agreed to Sponsor our 2014-15 College Football Playoff Shootout this year. We are building on our success in our regular season College Football Contest. This is a great opportunity to start playing at a great book that players really like once they start playing there. They are as safe a book as their is out there. Bet Phoenix has also decided to give a 100% Cash Bonus + a $100 Virtual Casino Chip as their bonus for Bowl Season!!! Look for Details below the Contest as soon as I get them!!!! Don't pass up this opportunity to try out a very user friendly online sportsbook!!!

Format
The Contest will Begin on Thursday, January 1, 2015 and will run end with the Championship Game on Monday, January 12th.
Each player Will make 5 on the two Semi-Final Games on January 1st.
Each Player will then Choose the side, total, two team 6 ½ Point Teaser, and a two team parlay for the Championship game.
The Plays will be graded at -110 except parlay and teasers (odds will be next to plays below)
The Top 5 players will be awarded the Cash Prize at the end of the Contest
In Case of a Tie We will have two tiebreakers posted for the Championship game
Each player will have 9 plays at the end of the contest.
Any plays not made will be counted as a loss
All Lines will be Posted on December 25th to let any injuries or suspensions be figured into the lines.
Any rules not covered by this or any disputes will be decided by the Handicappers Hideaway Staff. Their decision is final.

Plays to be Made each week (Each play based off $100)
Semi-Final Plays
One Side

One Total

One 3 Team parlay (6.5:1 payout) Don Best Parlay Calculator will be used

One 3 Team 7 Point Teaser (11:10)

One Play of the week worth 2 Units


Championship Game Plays
· One Side
· One Total
· One Two Team Parlay (2.5/1) Don Best Parlay Calculator
· One 2 Team 6 ½ Point Teaser (-115)
Prizes (Free Plays with 8X Rollover; 3X Max Cash Out)
$400
$200
$100
$50

To Win 100% of the Prize money participants will have to DEPOSIT $200 and take advantage of the signup bonus detailed below. If Not then player will receive 25% of the posted prize money. Prizes will be Credited within 72 Hours of the finished Grading of the Contest.

To Comment on this thread and all other sports and sports gambling topics please visit our popular online gambling forum at Handicappers Hideaway and don't forget to enter our daily and weekly fantasy sports contests at our sister site HHFantasy and win some of the thousands of dollars given away each day.