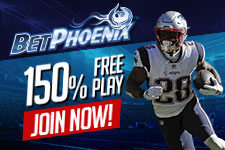 $100 – $299:
100% Cash Bonus + 10% Free Play*
$300 – $499:
100% Cash Bonus + 25% Free Play*
$500 – up:
100% Cash Bonus + 25% Free Play + 5% Cash Bonus*
Yes! We're now accepting Gift Cards as a payment option.
For further details on how to fund your account by using Gift Cards please contact our customer service department at 1.888.889.4368.
Tuesdays and Wednesdays Deposit Special
Promo Code: OCT100
100% Cash Bonus Rules:
Promotion intended for recreational players only.
1 Promotion per deposit.
Valid for residents of the Americas or where authorized by management.
Promotion available for customers on regular juice lines
To qualify a minimum deposit of $300 is required.
Maximum bonus awarded is $1000 Cash.
This Promotion carries an 18x rollover.
Rollover is based on Deposit + Transfer fees if any + Cash Bonus.
This promotion carries a two-week hold.
Person to person money transfers and Bitcoin deposits ONLY. (Other deposit methods do not apply).
Bonus available on Tuesdays and Wednesdays ONLY
Casino action does not count towards the rollover.
Further restrictions may apply.
To Comment on this post please visit our popular posting forums or in the comment section below and don't forget to check out our 2015 College football and NFL Contests.