November 3, 2015 6:38 pm ET
The first College Football Playoff Rankings are out from the CFP Selection Committee ... and there are a few surprises with Clemson, LSU, Ohio State and Alabama settling in as the top four -- in that order.
The surprises do not come at the very top, where Clemson (8-0) and LSU (7-0) hold the first two spots. They have played very similar schedules, the strongest among the remaining undefeated teams. They also both have high-quality wins over Notre Dame and Florida, respectively. The committee ranked the Irish ahead of the Gators, so it was no surprise then when Clemson was revealed to be ahead of LSU.
The latest from SportsLine
The committee again showed that being undefeated doesn't guarantee you anything with Alabama (7-1) coming in at No. 4 in this week's rankings, right ahead of No. 5 Notre Dame (7-1).
My biggest criticism of the committee this week though has to do with Baylor entering at No. 6. If strength of schedule means anything at all, that selection is indefensible.
Here is how the CFP Rankings' top 25 looks as of Nov. 3:
1. Clemson (8-0)
2. LSU (7-0)
3. Ohio State (8-0)
4. Alabama (7-1)
5. Notre Dame (7-1)
6. Baylor (7-0)
7. Michigan State (8-0)
8. TCU (8-0)
9. Iowa (8-0)
10. Florida (7-1)
11. Stanford (7-1)
12. Utah (7-1)
13. Memphis (8-0)
14. Oklahoma State (8-0)
15. Oklahoma (7-1)
16. Florida State (7-1)
17. Michigan (6-2)
18. Ole Miss (7-2)
19. Texas A&M (6-2)
20. Mississippi State (6-2)
21. Northwestern (6-2)
22. Temple (7-1)
23. UCLA (6-2)
24. Toledo (7-0)
25. Houston (8-0)
Let's compare Baylor's profile with that of No. 25 Houston.
Baylor has a strength of schedule that ranks in the low 100s; Houston's comes in closer to 120. They are the top two teams in the country in margin of victory. Baylor is beating their tomato cans by an average of 36 points per game, while the Cougars pound their opponents by 29. When the numbers are that big, a touchdown doesn't mean much.
Each team has beaten one reasonably competent opponent (Baylor over Texas Tech and Houston at Louisville). Houston has had to play its best opponents so far on the road. The Bears have played two road games so far, facing teams with a combined record of 1-15.
So yes, Baylor should be ahead of Houston -- but not by 19 spots -- and they should not be ahead of the the six teams ranked immediately behind them ... at a minimum.
Of course, Baylor, like the rest of the Big 12 powers, will get a chance to prove itself over the next five weeks when the top four teams in the league play a round robin against each other.
Iowa and Michigan State probably deserved better just based on their relative strength of schedule to this point. Those teams will get their chances to move up in the coming weeks.
Memphis was a no-brainer as the top rated team from the Group of Five at this point. There are challenges to come for the Tigers, who have to travel to Houston and Temple in the regular season; if they are fortunate enough, they'll likely play Temple again in the conference championship game. But, first things first -- they better not overlook Navy this week.
One of the unfortunate byproducts of this playoff system is that everyone focuses on conferences, specifically which one(s) are left out of the top four. It's a game of musical chairs -- five conferences, four seats. This process is about picking teams though, not conferences. In this case, both the Big 12 and Pac-12 are aced out because two SEC teams are in the top 4. Also, Notre Dame is higher ranked than any team from either of those leagues.
What does all that mean? In terms of where teams will finish at the end of the season, it means nothing. It's the first week of November, not the first week of December. This isn't one of the polls, which tends to slot teams and rarely deviate from those relative rankings unless teams lose. There will be fluidity in these rankings from week-to-week and a win doesn't guarantee holding a spot in the next rankings. So, it isn't time for anyone to jump on the panic button yet.
*** The CFP Rankings will be issued weekly on Tuesday nights through the end of the season. The four teams ultimately selected by the 12-person CFP Selection Committee to take part in the playoff will be seeded 1-4 and play semifinals in the Cotton Bowl and Orange Bowl on New Year's Eve. The College Football Playoff National Championship will be held in Glendale, Ariz. on Jan. 12, 2016.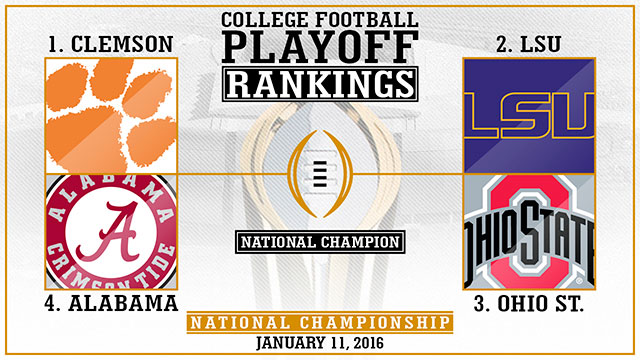 Clemson holds the No. 1 spot in the first CFP Rankings. (USATSI)
http://www.cbssports.com/collegefoot...ma-open-at-1-4