By John
Breech
| CBSSports.com
You've probably heard of Harvard.
The Cambridge, Massachusetts school is known for a lot of things, like producing Nobel winners, presidents and Supreme Court Justices.
One thing the school's not known for though is its NFL picks. However, that could change if the Dolphins somehow manage to win the AFC this year, which Kurt Bullard is predicting will happen.
Bullard designed a prediction model for the 2015 NFL season that was published on the Harvard College Sports Analysis Collective (HSAC) webpage Wednesday and that model is predicting that the Dolphins will be the best team in the AFC, followed by the Chiefs and Patriots.
So how exactly does Bullard's prediction model work?
I'll let him explain.
From
the HSAC page
.
The method that I came up with uses Pro Football Reference's Approximate Value statistic, the site's best measure of trying to tease out individual talent. Then, using ESPN's NFL depth charts, I aggregated each team's per game approximate value of what I considered to be the 'core' makeup of an NFL team: QB, RB, 2 WR, TE, Top 2 OL, the Top-4 'Front Seven' defensive players, and the Top-2 players from the secondary.
Basically, on offense, it comes down to a team's top seven players vs. another team's top seven players. On defense, it comes down to one team's top-9 vs. another team's top-9.
Bullard's model doesn't take the schedule into account, which I think is going to kill the Chiefs. Kansas City opens up at Houston, before hosting Denver. After that, the Chiefs will spend their next two weeks on the road against the Packers and Bengals.
That could be 0-4 for Kansas City and 0-4 teams don't make the playoffs. Actually, one 0-4 team did, the 1992 Chargers.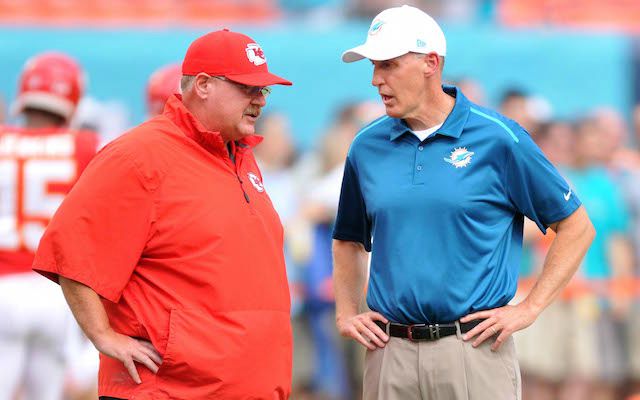 As for other weird nuances in Bullard's model: The Ravens are ranked 28th, the Vikings are ranked 25th, and the highest ranked NFC South team (Atlanta) is 18th overall.
It's probably also worth noting that the
Giants
, at No. 13, are the highest ranked team in the NFC East. Sorry Cowboys and Eagles fans.
You can see each team's ranking below, along with the team's percentage chance of making the playoffs.
In some cases, a team with a higher ranking has a lower playoff percentage than a team below it because of how the postseason is set up.
For instance, although the Falcons are ranked 18th, they have the 12th highest playoff percentage because a team from the NFC South -- no matter how bad it is -- has to make the playoffs.
2015 NFL prediction from the Harvard College Sports Analysis Collective
(Overall ranking, team, percentage chance of making playoffs)
1.
Seattle Seahawks
: 95 percent chance of making the playoffs (Highest chance)
2.
Green Bay Packers
93 percent
3.
Miami Dolphins
77 percent
4.
Kansas City Chiefs
: 66 percent
5.
New England Patriots
: 62 percent
6.
Denver Broncos
: 62 percent
7.
Detroit Lions
: 53 percent
8.
New York Jets
: 56 percent
9.
Indianapolis Colts
: 62 percent
10.
Buffalo Bills
: 43 percent
11.
Pittsburgh Steelers
: 51 percent
12.
Houston Texans
: 54 percent
13. NY Giants: 42 percent
14.
Cincinnati Bengals
: 39 percent
15.
Philadelphia Eagles
: 35 percent
16.
Dallas Cowboys
: 23 percent
17.
San Diego Chargers
: 33 percent
18.
Atlanta Falcons
: 51 percent
19.
New Orleans Saints
: 42 percent
20.
Arizona Cardinals
: 29 percent
21.
Chicago Bears
: 25 percent
22.
Washington Redskins
: 18 percent
23.
Carolina Panthers
: 19 percent
24.
Cleveland Browns
: 20 percent
25.
Minnesota Vikings
: 12 percent
26.
San Francisco 49ers
: 12 percent
27.
St. Louis Rams
: 10 percent
28.
Baltimore Ravens
: 9 percent
29.
Jacksonville Jaguars
: 3 percent
30.
Tampa Bay Buccaneers
: 3 percent
31.
Tennessee Titans
: 2 percent
32.
Oakland Raiders
: 1 percent
Just in case you're wondering what the Harvard College Sports Analysis Collective (HSAC) is, it's "a student-run organization at Harvard College dedicated to the quantitative analysis of sports strategy and management. Founded in 2006, the club meets weekly and is for students interested in sports statistics, sports business, and problem solving. HSAC has become an analysis partner for several sports related publications and companies and we are available to engage in additional projects."
(Wink of the CBS Eye to Fox Sports)

Harvard Study: Dolphins will win AFC in 2015, Giants will win NFC East - CBSSports.com