2015 Pro Football Hall of Fame: Kurt Warner, Seau, Pace among 15 finalists

By John Breech | CBSSports.com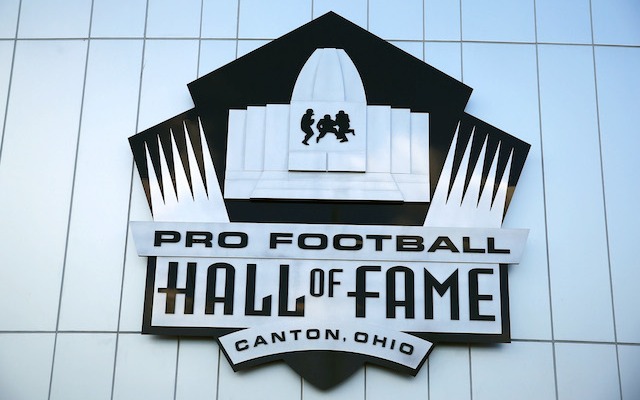 Maybe Kurt Warner didn't want to play for the Cardinals in 2014 because he didn't want to hurt his Hall of Fame chances.
The Pro Football Hall of Fame announced on Thursday that the former Cardinals quarterback has been named one of its 15 finalists for the class of 2015.
If Warner had returned to play in 2014, he wouldn't have been eligible for the Hall of Fame until 2019.
Out of the 15 finalists, Warner is one of only three players -- along with Junior Seau and Orlando Pace -- who's eligible for the first time.
The 15 finalists are listed below, followed by the 10 semifinalists who didn't make the cut. We've also including a look at the five players we feel have the best chance of getting inducted.
Pro Football Hall of Fame Finalists
Tim Brown, WR/KR -- 1988-2003 Los Angeles/Oakland Raiders, 2004 Tampa Bay Buccaneers:
If you feel like Tim Brown's a finalist every year, you're not too far off. The nine-time Pro Bowler has been a finalist six years in a row, including this season. However, with Cris Carter now in the Hall (2013) and Andre Reed being inducted in 2014, it's look like Brown might finally be able to escape the wide receiver logjam.
It's hard to argue with what Brown did in his career, he has the fifth most receptions (1,094) in NFL history, the sixth most receiving yards (14,934) and is tied with Hall of Famer Steve Largent for the seventh most touchdown catches (100). Brown accomplished all of this
despite tearing the MCL and PCL
in his left knee in Week 1 of 1989, only his second year in the league.
When you compare Brown to other Hall of Fame receivers, keep in mind that Brown put up his huge numbers despite catching passes from the likes of Jay Schroeder, Jeff Hostetler, Jeff George and Donald Hollas.
Marvin Harrison is the only other receiver to be named a finalist this year and keep in mind, he caught passes from
Peyton Manning
.
Charles Haley, DE/LB -- 1986-1991, 1999 San Francisco 49ers, 1992-96 Dallas Cowboys:
Haley's been having kind of the same problem as Brown. Like Brown, the five-time Pro Bowler has been a finalist every year since 2010 and also like Brown, Haley hasn't gotten in because there's been defensive lineman who are arguably more deserving.
Since 2010, John Randle, Chris Doleman, Richard Dent, Warren Sapp and Michael Strahan have all been elected. This could finally be the year where Haley joins them.
If getting into the Hall of Fame was based on how many
Super Bowl
rings you have, Haley would've been a first-ballot Hall of Famer. In his 13-year career, Haley played on five
Super Bowl
winning teams.
Orlando Pace, T -- 1997-2008 St. Louis Rams, 2009 Chicago Bears:
The seven-time Pro Bowler was arguably one of the three best left tackles of the past 20 years, along with Walter Jones and Jonathan Ogden. Ogden (2013) and Jones (2014) were both recently voted into the Hall of Fame and there's no reason Pace shouldn't join them in 2015.
Junior Seau, LB -- 1990-2002 San Diego Chargers, 2003-05 Miami Dolphins, 2006-09 New England Patriots:
Unless you're a kicker or a quarterback, it's almost impossible to play in the NFL for 20 seasons and be highly productive for every single one of those years, but that's pretty much what Seau did. The fifth overall pick in the 1990
NFL Draft
had more sacks in his 18th season than he did in his rookie season.
The now-deceased linebacker was voted to 12 Pro Bowls during his career. The most impressive part of that stat is that those 12 Pro Bowls came in 12 consective seasons (1991-2002).
Kurt Warner, QB -- 1998-2003 St. Louis Rams, 2004 New York Giants, 2005-09 Arizona Cardinals:
The Hall of Fame is in a quarterback drought and Warner looks like the man to end it. A quarterback hasn't been inducted into the Pro Football Hall of Fame since Troy Aikman and Warren Moon were both enshrined in 2006.
Back to Warner though, it's almost unfathomable to imagine that we're talking about inducting a guy who played for three teams from 2002 to 2006 and went 8-22 as a starter in that time period.
That 2002-06 span though is what makes Warner's two MVP seasons and three
Super Bowl
appearances so remarkable.
Warner took the 1999 Rams -- who went 4-12 in 1998 -- and led that team to a
Super Bowl
win. Then he led the Rams back to the
Super Bowl
in 2001.
A season almost as improbable as the Rams 1999 season was the Cardinals 2008 season when Warner led Arizona to
Super Bowl
XLIII. Including the 2014 season, the Cardinals have made the playoffs exactly four times since moving to Arizona before the 1988 season and two of those appearances were led by Warner.
Other Hall of Fame Finalists
Morten Andersen,
K1982-1994
New Orleans Saints
, 1995-2000, 2006-07
Atlanta Falcons
, 2001 New York Giants, 2002-03
Kansas City Chiefs
, 2004
Minnesota Vikings
Jerome Bettis
Pittsburgh Steelers
Don CoryellTerrell Davis
Denver Broncos
Tony Dungy
Indianapolis Colts
Kevin Greene
Carolina Panthers
, 1997 San Francisco 49ers
Marvin HarrisonJimmy JohnsonJohn LynchWill Shields
Hall of Fame selection process
stipulates that the number of modern-day inductees is capped at five. This means a maximum of seven players can be inducted into the Pro Football Hall of Fame. The number usually falls between four and seven.
The 2014 Pro Football Hall of Fame class will be announced in a television special that's set to air on Jan. 31 at 9 p.m. ET on NBC.
The list of 15 finalists above was trimmed down from 26 semifinalists, here's the 11 who didn't make the cut this year:
2015 Pro Football Hall of Fame: Kurt Warner, Seau, Pace among 15 finalists - CBSSports.com