Jerry Palm
Bracketology/Bowls Expert
The College Football Playoff selection committee will be releasing its first ever rankings Tuesday evening, but why wait until then? In this space every Monday through the rest of the season, I will predict what those rankings will look like.
The criteria used by the committee will be records, strength of schedule, conference championships won (which would only apply the last week or two of the season), records against common opponents (without giving weight to margin of victory) and other factors like injuries.
This is a difficult process
at best, made intentionally moreso by
not giving the committee much useful data with which to work
.
Here is this week's predicted top 25:
1. Mississippi State
: Undefeated and with one of the top schedules so far by any measure.
2. Florida State
: Also unbeaten with wins over
Clemson
and
Notre Dame
.
3. Auburn
: The Tigers play the nation's toughest schedule and have only lost at (predicted) No. 1 Mississippi State.
4. Ole Miss
: The Rebels have a tough schedule as well and beat No. 5
Alabama
.
5. Alabama
: Beat surprising West Virginia and the Tide's only loss is at No. 4
Ole Miss
6. Notre Dame
: The Irish have been let down some by their schedule, but played No. 2 FSU tough in Tallahassee in their only loss.
7. Kansas State
: Won at
Oklahoma
and lost only to No. 3 Auburn.
8. Arizona
: Lost at home to USC, but won at No. 10
Oregon
.
9. Georgia
: Beat Clemson and has been playing well without stud RB Todd Gurley, but lost to
South Carolina
.
10. Oregon
: Has struggled with injuries on its OL, but beat
UCLA
and Michigan State.
11. Michigan State
: Looking like the class of the Big Ten, but has a relatively weak schedule and the loss at Oregon is a ceiling for them in the rankings.
12. Baylor
: Played a wretched non-conference schedule, but beat
TCU
.
13. Arizona State
: The Sun Devils' schedule is decent, but they lost at home to the best team they have played, UCLA. QB Taylor Kelly missed some time, but Mike Bercovici filled in well.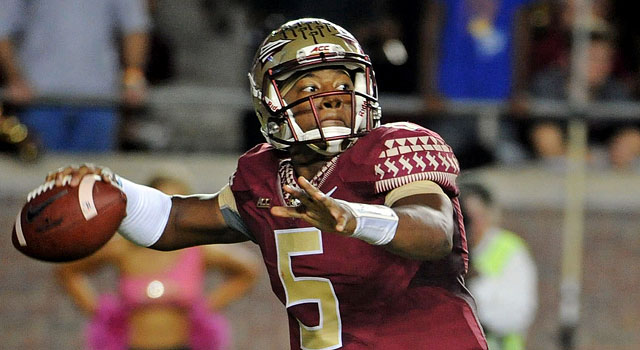 14. TCU
: The Horned Frogs have been lighting up the scoreboard and have beaten Oklahoma. They even scored 58 when they lost to Baylor.
15. LSU
: The Tigers are the highest rated two-loss team with wins over Ole Miss and
Wisconsin
and losses to two of the top 3 teams on this list.
16. Nebraska
: The Cornhuskers schedule is uninspiring so far. Their best win is over Miami, but they nearly came back to beat Michigan State on the road.
17. Utah
: Utah has played well, including a win at UCLA, since a head-scratching loss at home to 2-6 Washington State.
18. East Carolina
: The Pirates are 2-0 vs middle-of-the-pack ACC teams and only lost at South Carolina.
19. Ohio State
: The Buckeyes have rebounded from losing Braxton Miller and played well, but that loss to
Virginia Tech
looks worse every week.
20. Marshall
: The Thundering Herd have a horrible schedule and no hope of improving it. They have only played one team that's above .500 (
Middle Tennessee
).
21. Oklahoma
: The preseason Big 12 favorite won at
West Virginia
, but lost to TCU at Kansas State to fall out of the race.
22. West Virginia
: The Mountaineers have tested themselves well and handed Baylor its only loss so far. Only Oklahoma and Alabama have defeated them.
23. UCLA
: The Bruins have been a bit confounding, winning at Arizona State, but losing at home to Utah and Oregon.
24. Clemson
: It's taken a good team to beat the Tigers (Georgia and
Florida State
), but they have yet to beat a good one themselves.
25. Wisconsin
: The Badgers' schedule is OK, but their hopes fell apart when they lost at
Northwestern
.
SEC gets 3 of top 4 for first CFP Selection Committee predicted Top 25 - CBSSports.com